The message of Stand Strong • Stay Safe is simple:
Everyone deserves to be treated with respect.
Know what is safe.
Be assertive: you have the power to choose how to act.
Tell a trusted adult, and keep telling until you get the help you need.
Abuse is never a child's fault.
It is up to adults to keep children safe from. Sadly, children must often handle unsafe situations on their own. Like a vaccine against disease, Stand Strong • Stay Safe prepares children to act as their own first line of defense against unsafe situations.
Stand Strong • Stay Safe teaches children about physical abuse, sexual abuse, emotional abuse, neglect, and bullying. They learn strategies to stand up for themselves and to contribute to the safety of others in their communities by avoiding secrets, standing up for victims of bullying, and treating others with kindness. The program prepares them to recognize abuse, set healthy boundaries, act assertively on behalf of themselves and others, and get help when they need it.
Why is personal safety education important? In order to prevent trauma inside and out, we must equip our children with knowledge and skills to keep themselves and each other safe.
135,300 children in the United States were sexually abused in 2005-2006 (Sedlak et al, 2010); only 30% of these cases were reported to authorities (Finkelhor, Hammer & Sedlak, 2008).
In Texas, Child Protective Services substantiated 5,928 cases of child sexual abuse in 2012 (USDHHS, 2013); based on the evidence that only 30% of cases are even reported, this suggests that at least 18,000 Texas children were sexually abused during that time.
Over 1.25 million children in the United States were victims of child abuse and neglect in 2005-2006. Of these, over 700,000 were neglected, 323,000 were physically abused, and 148,500 children suffered emotional abuse (Sedlak et al, 2010).
In 2016, there were over 55,000 reported victims and 9,070 confirmed victims of child abuse or neglect in Houston.
Child abuse and neglect, as well as other forms of victimization, have significant health and mental health consequences for children and families. It has been well established in the research literature (Fang, Brown, Florence & Mercy, 2012) that lifelong consequences of childhood victimization include post-traumatic stress disorder, behavior problems in childhood and often persisting into adulthood, adult criminality, substance abuse problems, and reduced overall health throughout the lifespan. Researchers have found that adverse experiences such as emotional trauma associated with childhood victimization can affect physical health later in life, and increase risks for obesity, heart disease, liver disease, diabetes, alcohol and drug abuse, intimate partner violence, unintended pregnancies, and depression (Felitti et al, 1998).
In addition to the significant health and mental health costs, child abuse and neglect carries a significant economic burden that affects us all. Researchers estimate that the lifetime economic impact of child abuse and neglect cases occurring in 2008 will be, conservatively, $124 billion. In 2012 alone, the direct and indirect costs of responding to child abuse and neglect are estimated to be over $80 billion in taxpayer dollars (Gelles & Perlman, 2012). In other words, the United States pays $220 million per day to deal with the consequences of child abuse and neglect.
The cycle of abuse will continue from generation to generation until children and adolescents are taught how to stay safe, how to handle threatening situations, and how to get help. Stand Strong • Stay Safe is a primary prevention program; it seeks to reduce the likelihood of child maltreatment and victimization and improve the overall wellbeing of children.
Monkey, Panda, and Puppy help presenters tell stories about staying safe from abuse through short puppet shows.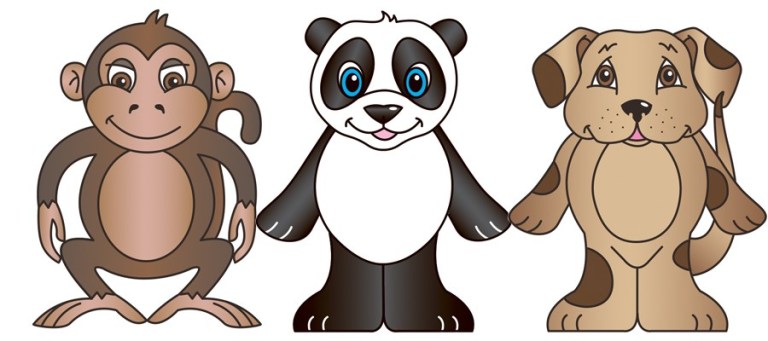 Stand Strong • Stay Safe Early Childhood is designed to engage children in Pre-K through First Grade.
Trained educators present engaging, non-threatening content in English or Spanish to students in a variety of educational settings. The program uses active learning techniques such as group discussion and situational problem solving along with age-appropriate curricula, materials, and follow-up activities.
Assertiveness
The Power of Kind Words (Emotional Abuse)
Inappropriate Touch (Sexual Abuse)
Neglect and Physical Abuse
Direct links to access the curriculum:
Access Lower Elementary Curriculum Access Upper Elementary Curriculum Curriculum Overview & TEKS
Stand Strong • Stay Safe Elementary builds on the content covered in the Early Childhood curriculum, providing age-appropriate activities and discussion for older students and offering many opportunities for real-world problem-solving and discussion. Five engaging 30-minute lessons are delivered by trained educators covering a range of topics:
assertiveness
emotional control
setting, communicating, and respecting boundaries
requesting, giving, and withdrawing consent
recognizing physical, sexual, and emotional abuse
distinguishing between safe and unsafe situations
getting help and avoiding secrets
preventing bullying
digital media safety
Two sequential age-appropriate curricula are available for Elementary students. Stand Strong • Stay Safe Lower Elementary is designed for 2nd and 3rd Grades and is appropriate for 4th and 5th graders who have not received Stand Strong • Stay Safe in the earlier grades. Stand Strong • Stay Safe Upper Elementary is designed for 4th and 5th graders who have already received the Lower Elementary curriculum.
Lessons include a comic, a script to guide discussion, and activities for interactive skills practice. The curriculum is packaged with a set of full-color posters, a PowerPoint presentation for each lesson, and a series of follow-up activities that may be photocopied and left with classroom teachers.
The superheroes depicted above and their kid-sized alter-egos help presenters present realistic scenarios to engage students in discussion. Comic pages and animated videos are available as teaching resources.
At some point in their lives, most children will experience adversity; often, these experiences are traumatic.  Many children experience the stress of a move, divorce, or the death of a family member.  Some suffer physical or emotional abuse, neglect, bullying, or violence by their parents, caregivers, or others. Research shows that students experience higher academic achievement in classrooms where social and emotional skills are taught.  Social and Emotional Learning programs are linked to fewer behavior problems, better mental health, improved attitudes in school, and increased prosocial skills.
Build to Nurture prepares children with the social and emotional skills they need to become caring, nurturing, and contributing members of their families and communities.
Build to Nurture is a classroom-based curriculum designed for Prekindergarten through First Grade. Many of the lessons and practices can be adapted for classrooms of older children as well.
Lesson 1. Welcome to Your Classroom Community
Lesson 2. Knowing Your Emotions
Lesson 3. Emotional Control
Lesson 4. Assertiveness
Lesson 5. Empathy
Lesson 6. Consequences
Lesson 7. Solving Problems
Lesson 8. Kind Words
Parents Under Construction
Our award-winning parenting education curriculum teaches children and adolescents empathy and pro-social skills today, leading to nurturing child rearing skills and beliefs.
Why do kids need to learn parenting skills? To become empathetic individuals today and nurturing parents tomorrow.
Most students leave high-school with no training or education in this area. In 2011, there were over 32,000 reports of child abuse/neglect in Harris County alone. Ineffective and/or abusive parenting is a significant contributing factor to many social and health problems, including:
Substance abuse
Delinquency and crime
Poor academic performance
Teen pregnancy
Violence
Emotional disturbance (depression, irritability, aggression)
The Adverse Childhood Experiences (ACE) Study is one of the largest investigations ever conducted to assess associations between childhood maltreatment and later-life health and well-being. The ACE Study findings suggest that certain experiences are major risk factors for the leading causes of illness and death as well as poor quality of life in the United States. Childhood abuse, neglect, and exposure to other traumatic stressors which we term adverse childhood experiences (ACE) are common. The study shows that stress during childhood increases the risk for the following many health problems including alcoholism and alcohol abuse, depression, fetal death, illicit drug use, liver disease, sexually transmitted diseases (STDs), smoking, suicide attempts, and unintended pregnancies.
Without education, the cycle of dysfunctional parenting and abuse will only continue to plague our communities. Parents Under Construction can prevent this.
Curriculum Description
This 10-lesson curriculum is designed to teach middle and high school students skills that will positively
influence their future parenting. Parents Under Construction enhances children's awareness of how parenting
influences children's mental health. The program helps children today learn the parenting skills they will need
in the future. This program increases the social and emotional competence of children and prevents physical
abuse, emotional abuse, and mental health challenges now and in future generations.
The lessons objectives cover the following critical content areas. Students who participate in Parents Under Construction will:
Increase knowledge of parenting
responsibilities, demands, and costs.
Learn accurate information about child development.
Develop empathy for children and parents.
Enhance their knowledge about mental health, and understand the relationship between parenting practices and the child's mental health.
Apply a wide range of positive discipline techniques.
Learn how to create a nurturing environment for the well-being of children.
Additional benefits of the program include the following.
Students learn about child development, but also critical thinking, communication, and decision-making skills that will enable them to build healthy relationships today and strong families tomorrow.
Parents learn positive communication and discipline techniques.
Can increase academic achievement by promoting your students' social/emotional skills
Teachers learn valuable behavior management options
Promotes a more peaceful classroom and school environment
Provides parent engagement
Program fulfills 27 out of the Search Institute's 40 developmental assets
Parents Under Construction has been extensively evaluated in sixteen separate, independently conducted research studies and has been found effective in:
teaching children parenting skills
positively impacting children's attitudes regarding the use of nurturing discipline techniques
knowledge gains and attitudes remain at five-year follow-up
students report greater empathetic capacity after participating in the program
teachers implementing the program note improved student behavior
parents participating in parent/child program activities overwhelmingly approve of the program
In K-3 and high school classes, statistically significant knowledge increases of +41% and +10%, respectively were found. Positive attitude gains for these two samples were also strong (+79% and +17%) and also statistically significant.
There was a 9% increase in the expectation of good parenting behaviors by high school students
Benefits to Teachers
ChildBuilders' Parenting Education program has benefits for students, but also for classrooms, teachers, and parents!
Implementation of the curriculum results in more cooperative student behavior and a more peaceable classroom environment.
Students not only learn about child development, but also critical thinking, communication, and decision-making skills that will enable them to build healthy relationships today and strong families tomorrow.
Parents learn positive communication and discipline techniques that can improve the student/parent/teacher bond.
ChildBuilders' Parenting Education training program is a professional development opportunity for your faculty that:
Is fun and highly engaging
Awards 6 CEU's
Provides teachers stipends when they participate in our evaluation process
ChildBuilders' Parenting Education program is a school-based program that:
Meets TEKS requirements
Fulfills 27 of the 40 developmental assets
Meets character education guidelines
Is easily integrated into academic instruction time
ChildBuilders' Parenting Education program:
Can increase academic achievement by promoting your students' social/emotional skills
Helps teachers learn valuable behavior management techniques
Promotes a more peaceful classroom and school environment
Provides parent education and engagement